Why? Oh Why Marc?
Why do you have to ruin this pretty red tote by adding the sequin clutch on it? It's not working when you did it for LV, and once again it's not going to work in your own line.
When i see this bag, all i can think of is ripping the clutch away. it looks like a hump, a big annoying mole, a fungus, a jellyfish on a skin. It's just plain ugly, ok?
Marc Jacobs Serafima Bag on Bag Small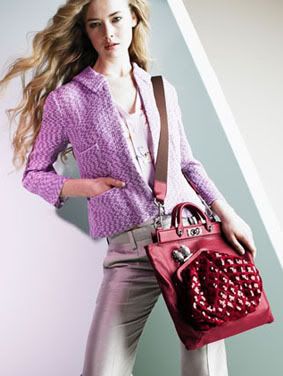 red leather, silver-tone hardware, top handles; removable brown webbed cross-body strap with logo plate, framed top; turn-lock closure, tonal bag detail on front with allover red sequin squares; kiss-lock closure.
size : 13 1/2"H x 13"W x 1"D
currently retails for $2250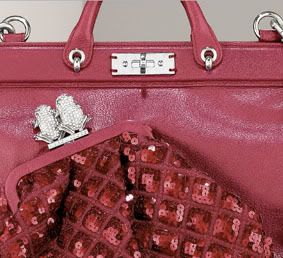 Marc Jacobs Mesh Lace Robert Bag on Bag

OK, with the serafima bag at least the red leather tote itself is nice, but this one, i can't see the beauty in any part of the bag. And what's up with the B letter there?
Mesh tote/lace bag/calf leather
double top handle, 4" drop, detachable shoulder strap, turn lock closure, silver tone hardware, double frog closure on bag is embellished with crystals
size : 15"W X 15½"H X 1½"D
currently retails for $2100