click
here
for all YSL Muse Two posts on this blog
I LOVE this bag! I still have no idea on the name, price or measurements but i'm falling in love.
I like the leather, the colour combo, the interlocking, the shoulder strap and the length.
So far, here's the info i got. I will update this post when i found more info.
For the
leather and mock croc versions
:
large : 15"x 6.6" x 11" with 7" straps at $1895
medium : 12"x 5.9" x 9.5" with 6" straps at $1,645
small or mini with shoulder strap (have no idea on size and price yet)
For the
ostrich version
is $5995
for
spring
, it's coming in the 2 colour-combo as shown, plus all over black and all over navy...
for
fall
, it's coming in all over camel, all over black, plus another 2 colour-combo
Here is the pic of the other version of this bag with alligator pattern in suede material from the print ad modeled by Kate Moss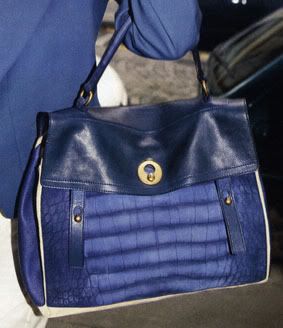 more pics from random sources :