by request from tabloidtalk, here i post something about this bag :)
i'm not too informative about Hermès, but i try to dig up some info to share here.
please welcome to correct me if i'm wrong or comment some info that haven't posted here.
Leathers information
(source : lilach from PF)
togo
- grained leather, holds its shape quite well a bit stiff not very scratch prone a little glow
clemence - more matte then togo a flatter grained very buttery soft so it slouches more (it looks a bit like ironed togo)
epsom
- stiff textured leather (kind to be compared to vuitton taiga) has a wonderful sheen to it but to some it appears plasticy colours are way darker on this leather very scratch resistant
fjord
- very heavy bull leather very textured but also sturd and nearly waterproof it looks a bit masculine
chevre de coromandel
- goat leather with a shiny finish very exotic looking due to the spine soft lightweight scratch resistant durable
chevre mysore
- a more matte goat leather where the spine is less durable
box
- classic shiny box calf leather prone to scratches but ages wonderfully and gets a gorgeous patina very classic looking
chamonix
- a variation of box leather but matte looking
Barenia
- a classic saddle calf leather
ostrich
- the lightest leather of them all very durable no problem with water get softer while the years go by but still holds its shape no problem with water ages wonderfully
lizard
- a very exotic looking leather if ordered in glazed it sparkles like diamond encrusted due to the small scales. can not handle water at all ages well but there is the possibility that the scales lift so take good care of it
porosus croc
- the queen of the crocs very even and small scale pattern can not handle water well due to the glazing but really makes colours pop ages but colours appear darker on it ages gracefully
niloticus croc
- a more "wild" looking croc scale pattern colours tend to look really vibrant on it a tad cheaper than porosus and it is just a personal taste thing which croc pattern you love more
Hermès Haut à Courroies means High Belts in French. This bag also called the old birkin, it's slightly taller with shorter straps.
The Haut à Courroies, or HAC, was designed in the late 1800's for the purpose of transporting riding gear: saddle, boots, hunting equipment, etc. It is the predecessor to the much younger Hermès Birkin. The HAC is taller than the Birkin, and has shorter straps. The price for a HAC is essentially identical to the Birkin, starting from about $8,000, depending on features such as hide and hardware.
there are 6 sizes available :
HAC W27 : H24 x W27 x D14
HAC W32 : H27 x W32 x D16
HAC W45 : H38 x W45 x D25
HAC W50 : H41 x W50 x D26
HAC W55 : H45 x W55 x D28
HAC W60 : H48 x W60 x D30

some pics :
HAC 32cm Black Box HAC with Ruthenium Hardware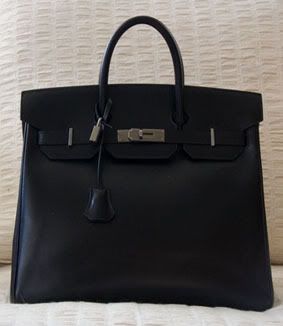 pic borrowed from S'Mom at PF


HAC 40cm in Orange taurillon clemence with GHW
pic borrowed from jaegerhomme at PF
here's a comparison of
32 cm black HAC in Fjord and
30 cm Rouge Garance Birkin in Togo
pic borrowed from Sweetea at PF


here's a comparison of
Kelly -- 32 Etoupe Taurillon Clemence and
HAC -- 32 Rouge H Box Calf with PH
pic borrowed from jasperella at PF
here's a comparison of
Black 40CM VGA Birkin with a Y circle stamp and
Cocaon 36CM HAC Chevre de Coromandel with a K stamp
pic borrowed from olive519 at PF


here's a comparison of
40 cm HAC and a 40 cm Birkin
pic borrowed from ilovemylife at PF
recently Katie Holmes was spotted with this bag in size 55 cm that you can see
here
.
and this post (that made me drooling all over in the making) deserves a major drool-worthy picture in the end
pharrel williams' custom made HAC purple croc!!!