click
here
for the previous post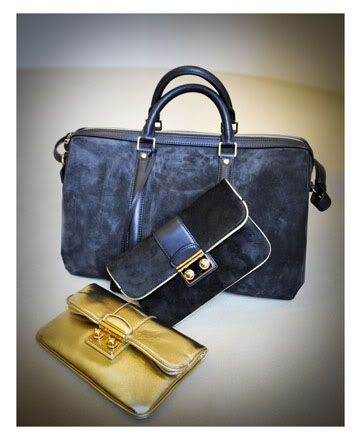 by Amanda Kaiser
Friday December 05, 2008
From
WWD.com
Sofia Coppola is making her directorial debut- in terms of handbags and shoes that is.
Five years after she paid tribute to this city in her Oscar-winning film "Lost in Translation," Coppola is back to unveil her line of accessories for Louis Vuitton, consisting of slouchy duffle bags, discreet clutches and retro wedge sandals. She and Vuitton are feting the collaboration with a party here Friday night at Château Restaurant Joël Robuchon.
The collection will hit stores in March
.
Coppola said the collaboration took shape during a visit to the custom orders department at Vuitton's factory in Asnieres, France. "To start with I wanted to make a bag for myself and then we talked about making a little capsule collection," she told WWD. "My friends and I are always searching for the perfect day bag. It fits all your things but isn't too big and isn't too heavy."
The director said she opted for a classic sensibility rather than anything trend-driven. "I wanted a bag that I could use every day that was coming from the heritage of Louis Vuitton's great leather goods, not connected to the fashion side of the brand," Coppola said, adding that she spent about a year working with LV artisans to get things just right. "We went through a lot of prototypes but it was fun. It was always exciting to get a new one and I would try them out and add things."
The fruit of that labor, the SC Bag, comes in four versions: one in dark gray suede, two in calf leather in dark blue and burgundy and one in LV's signature monogram canvas.
For evening, Coppola designed four slender compact clutches with buckles resembling the closure on Vuitton's classic trunks. Coppola said she thought of Lauren Hutton, one of her "fashion heroines" when designing a slightly larger version of the clutch in LV monogram canvas.
Coppola also channeled the seventies when it came to designing her take on the peep-toe wedge sandal. She was eager to craft "a heel you can really wear all night and it's comfortable but still looks chic," she said.