it is time of the season again and i love them more and more.
the slash lizard is amazing. i always love lizard, i wonder how many more seasons til they decide to come out with slash croco, it would be dreamy :)
and
i am sooooo in love with the CLYDE
, i am.... it is sooo pretty and it perfectly fulfill the category of my favourite bag. big, slouch, have short handles, have long handles and still a lil bit rockin'

SLASH Stud
double sided flap;
multi toned/sized studded python pattern
flap and nappa leather flap with 2 way zip closure.
quick access outside zip pocket, inside zip pocket,
zipper expandable leather gusset,
detachable chain sholder strap
size : w 13" x h 11" x d 1"- 3"
currently retails for $795
SLASH Lizard
double sided flap;
lizard embossed nappa leather flap
and nappa leather flap, with 2 way zip closure.
quick access outside zip pocket, inside zip pocket,
zipper expandable leather gusset
detachable chain shoulder strap
size : w 13" x h 11" x d 1"- 3"
currently retails for $595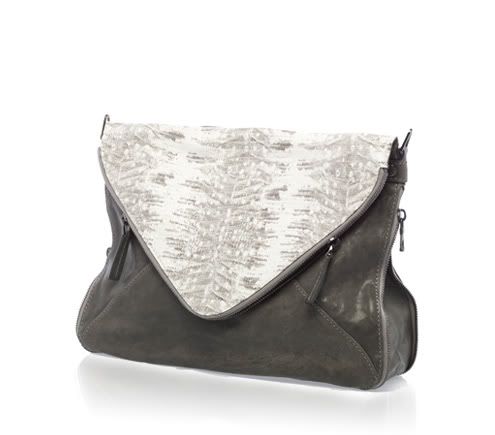 SLASH LIMITED Seamless Python Flap
zip top closure, expansion body zip
quick zip outside pocket
detachable custom chain shoulder strap,
inside zip pocket and pouch, suede gusset
size : w 13" x h 11" x d 1"- 3"
currently retails for $1100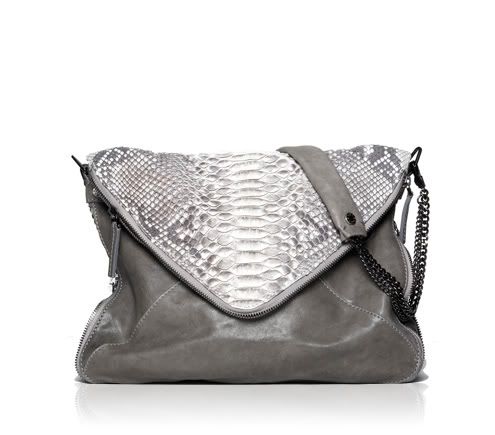 CLYDE
Wrap around handles adorned
with signature custom rings
two-way zip top closure,
inside zip and pouch pocket
tie nappa leather shoulder strap
size : w 12" x h 8.5" x d 4.5"
currently retails for $725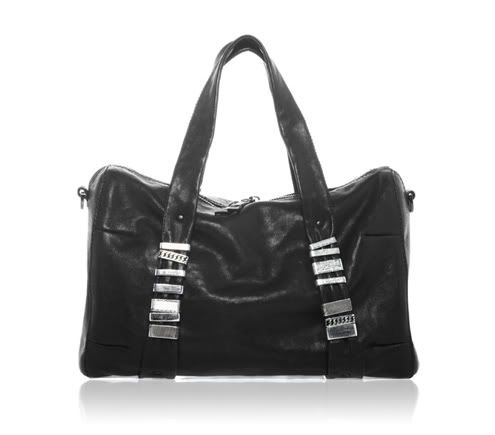 SYD
Clutch featuring collection's signature custom designed rings
Nappa leather body,
hidden magnet closure
size : w 10" x h 5" x d 1"
currently retails for $608
SYLVESTER
Layered nappa leather and
gun-metal chain fringe bag
inside snap pocket,
outside back zipper pocket
tie shoulder strap adorned
with signature custom rings
size : w 10" x h 8" x d 1"
currently retails for $485
LUCAS
salt water snake body, nappa suede lining
lambskin belt tie adorned with
signature custom rings
tie shoulder strap, inside pocket
size : w 9" x h 8" x d 1"
currently retails for $645
LENNY
nappa leather handles adorned with
signature custom rings
inside cross body zip compartment,
expandable zipper sides
inside zip and pouch pocket,
tie nappa leather shoulder strap
size : w 14" x h 11" x d 4.5"
currently retails for $760
FRANC
separate box compartment,
magnet top closure,
adjustable nappa handles adorned with
signature custom rings,
tie napa shoulder strap, inside zip pocket
size : w 12" x h 12.5" x d 6"
currently retails for $670
QUINCY
nappa leather handles adorned with
signature custom rings
comes with hand tied leather shoulder strap
side expansion zippers,
2 top zipper large pockets
Inside zip pocket, insode pouch pocket
size : w 14" x h 13" x d 5.5
currently retails for $770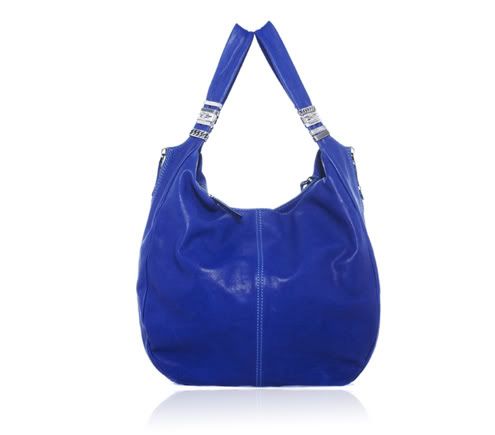 WALLY
Nappa leather Bi-fold wallet
python or lizard print option
multipe card slots, change snap pocket,
cash money compartment
2 zip pullers with 2-way zipper
currently retails for $140